The Farm-to-School home garden kits are back again this year to send home to students and families the week before April break! As part of your partnership with the Cornell Cooperative Extension of Seneca County (CCE Seneca) Farm to School program, this popular resource will once again be available for families to grow healthy foods at home.  The garden kits will include seeds (bush beans, cherry tomatoes, seed potatoes, zucchini, sweet basil, sunflowers and zinnias), potting soil, instructions for starting seeds in recycled containers, and additional information in a handy tote bag.  Like last year, students and families need to register in order to receive the home gardening kits. Register now!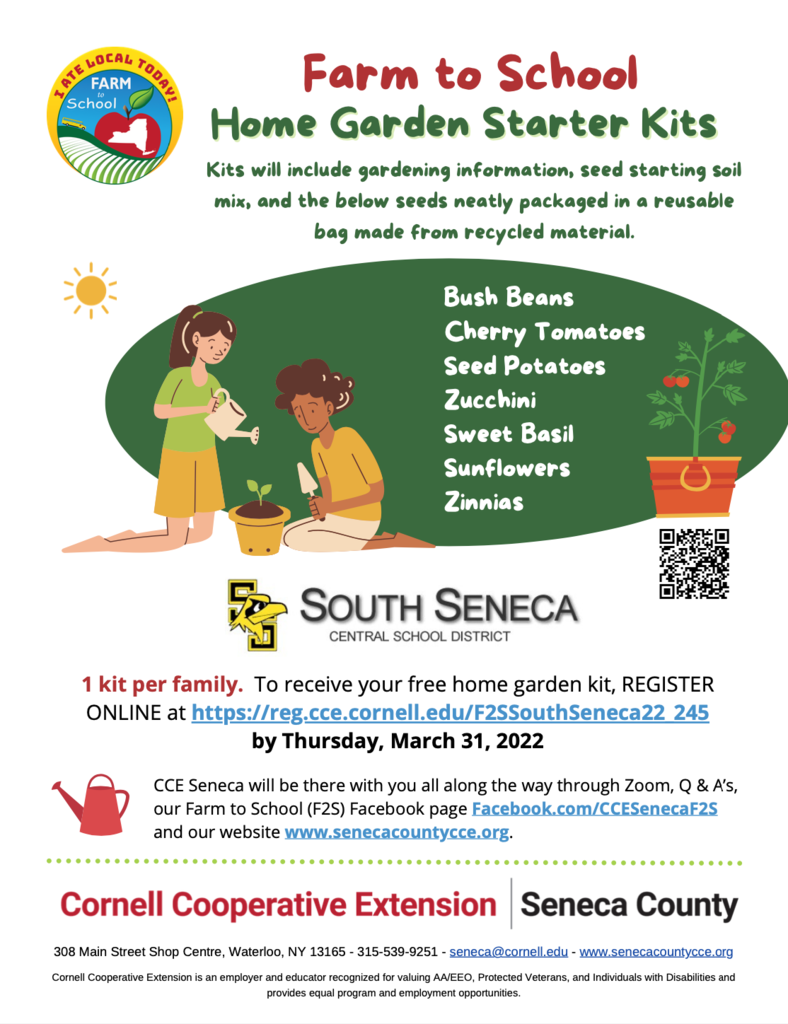 Public Notice March 3: Since the lifting of the statewide school mask mandate this Wednesday, our Seneca County school districts have been working with the health department to review the latest guidance and to interpret the details of what was shared Tuesday evening. It is important for our communities to understand what has changed, and what has not. In most respects, our schools will operate as they have been to mitigate virus transmission in our spaces. We will continue to observe social distancing measures as practical, and we continue to urge anyone who is exhibiting symptoms to stay home. The state continues to allow those who are recovering from a positive case of COVID-19 to return to school after a five-day isolation period if symptoms are clearing, but anyone in days 6-10 after an infection is still required to mask until the 10 days are up. We continue to offer testing in our buildings, and we are receiving regular shipments now of take-home test kits to make available to anyone in our school community who needs them. The most significant change beyond making masks optional is the approach now to what happens when someone tests positive. Individual contact tracing has ended in schools; in its place, schools will become primarily involved in reporting "clusters," where multiple positive cases present in the same group, class, or space. At South Seneca, principals can still make use of the targeted texting feature of the mobile app to announce to grade (or school) level parents and guardians when a single case is discovered—and in general, the district will continue to make public notices weekly on Fridays to summarize cases from the prior week. The advice from the health department is when you become aware of a potential exposure, you should consider wearing a mask for 10 days, and you should seek a COVID test after 5 days. No one potentially exposed will be excluded from attending school anymore if they remain asymptomatic, so these added mitigation measures are strictly voluntary. Isolation is only required when someone tests positive, which is why it remains vital to stay home if symptoms present. We are all encouraged to see overall case numbers decreasing, and what has been true since this began remains just as true: the school's success depends on everyone doing their part. Thank you!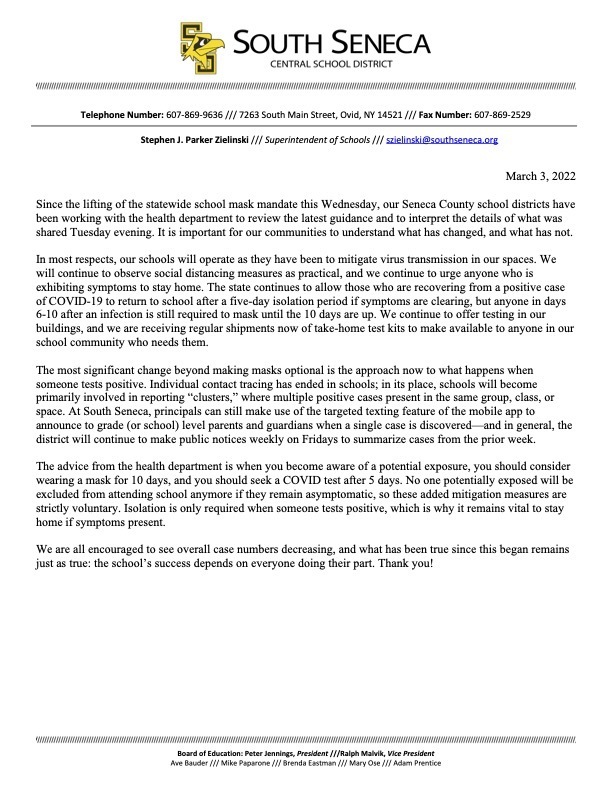 This picture was taken in 1939. What changes catch your eye the most? #ThrowbackThursday #FalconsForever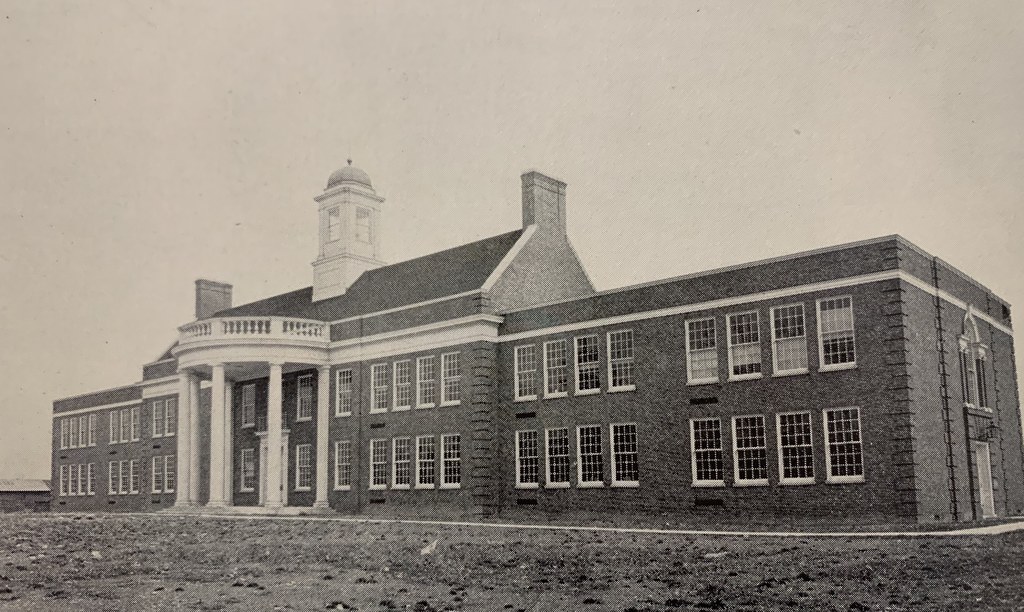 Public Notice March 1: This afternoon the Seneca County Health Department formally lifted the mask mandate for county schools, effective March 2. We are still waiting for updated supplementary guidance from New York State, but effective Wednesday, March 2, masks will be considered optional in district buildings and transportation. Further communication will follow as we learn how other protocols will be amended, if at all.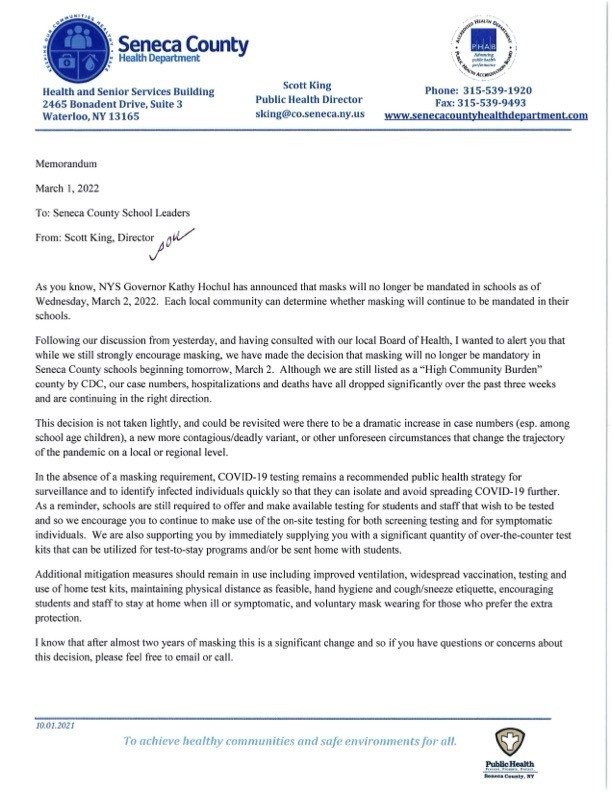 Public Notice February 27, 2022: The Governor announced today the end of the statewide mask mandate for schools, effective Wednesday, March 2. Unless and until Seneca County Public Health orders differently, South Seneca will operate in a mask-optional environment beginning Wednesday. Thank you as always to our community for your continued cooperation and support!
Hi everyone, Our VIP wrestlers are running about 10 minutes later than expected. See you soon!
Hi everyone, Our wrestlers are running on time for a 1:30 arrival in Ovid. They will roll through town with help from our fire departments and end up at our gym entrance. Let's get a good crowd to welcome them home. Have a great day.
Hi, everyone, this is Mr. Houseknecht. I hope you and your children have enjoyed the break. As many of you know, we have two wrestlers at the state tournament. As of the last update, Luke Dendis will be wrestling for thir3rd place and Caleb Sweet is in the finals. Win or place, we are very proud of these young men. We'll have a small parade through Ovid when the boys return tomorrow with the help of local fire departments and others. It will start near Pat's Pizza and will end at the gym entrance. We are planning for approximately 1:30. Since we can't be exactly sure of the return time as of this afternoon, I will post a text message around 12:30 tomorrow. Feel free to come out and do some cheering for our great school and community representatives. Have a great day.

Public Notice February 18: This past week South Seneca received reports of seven students and one staff member testing positive for COVID-19.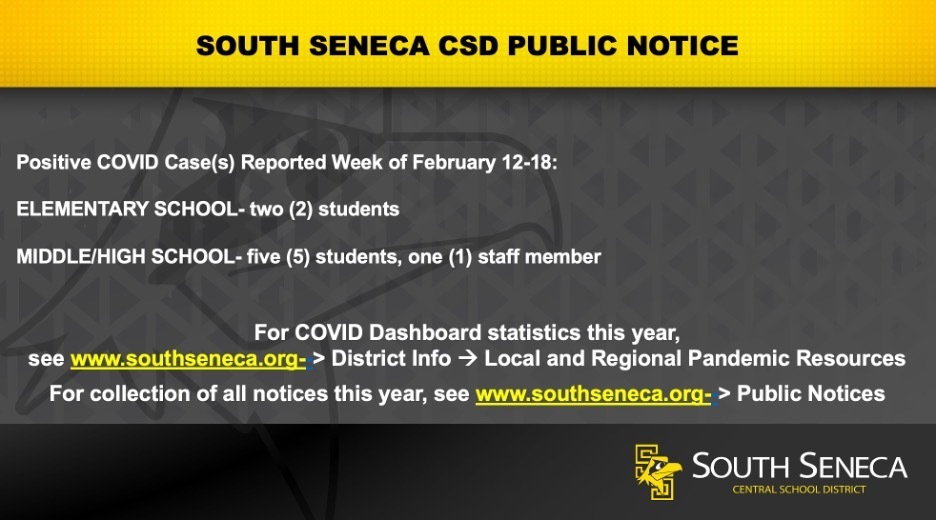 Hello High School Parents/Guardians, Today is the last chance to order a yearbook. Sales will be closing at midnight tonight. Their will be no extra copies for sale. Please visit the website here:
www.jostensyearbooks.com
Thanks, Tim Houseknecht

There was laughter, tears and an overflowing of Falcon pride at Basketball Senior Night! Congrats to all of our amazing senior athletes. #ForeverFalcons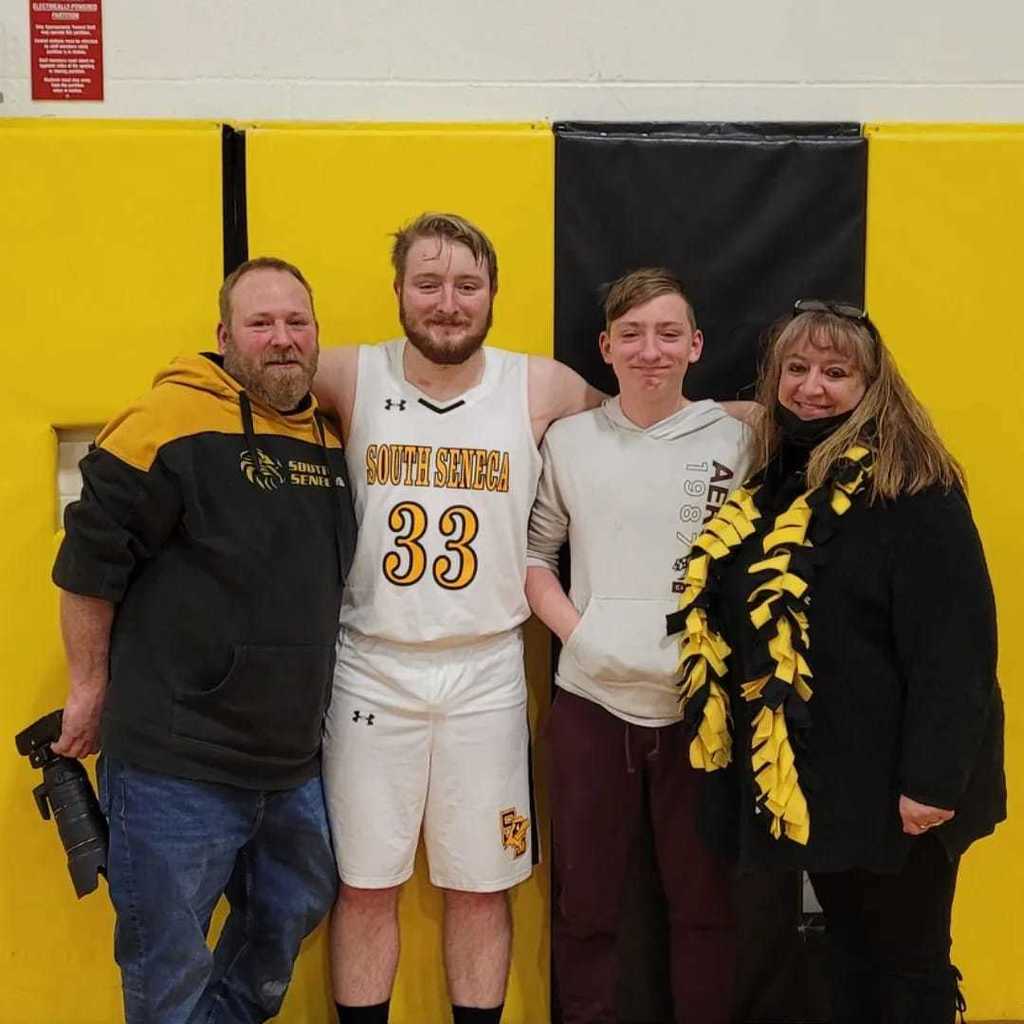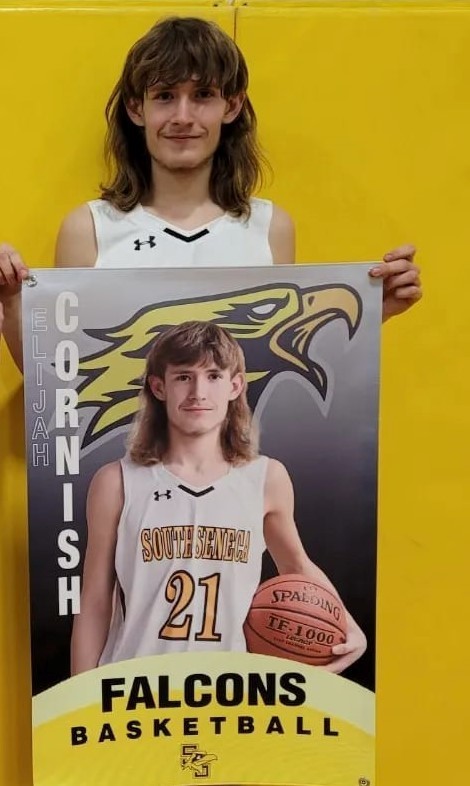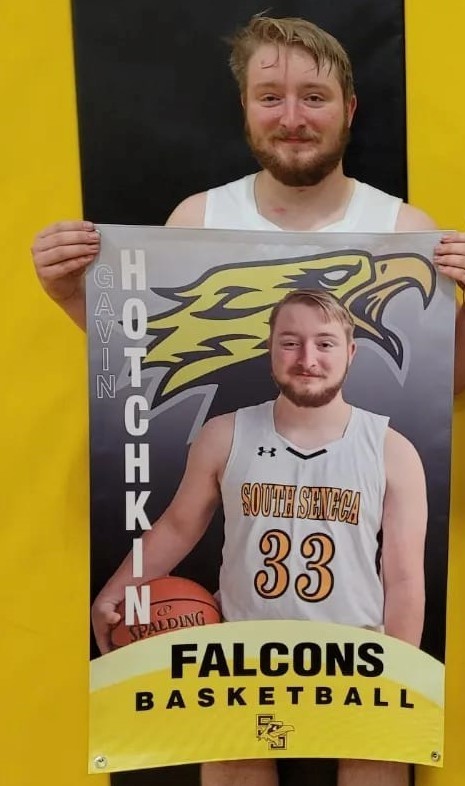 Public Notice February 11: South Seneca received reports of 20 new positive COVID test results this week-- 14 in the Elementary Building and 6 in the MSHS.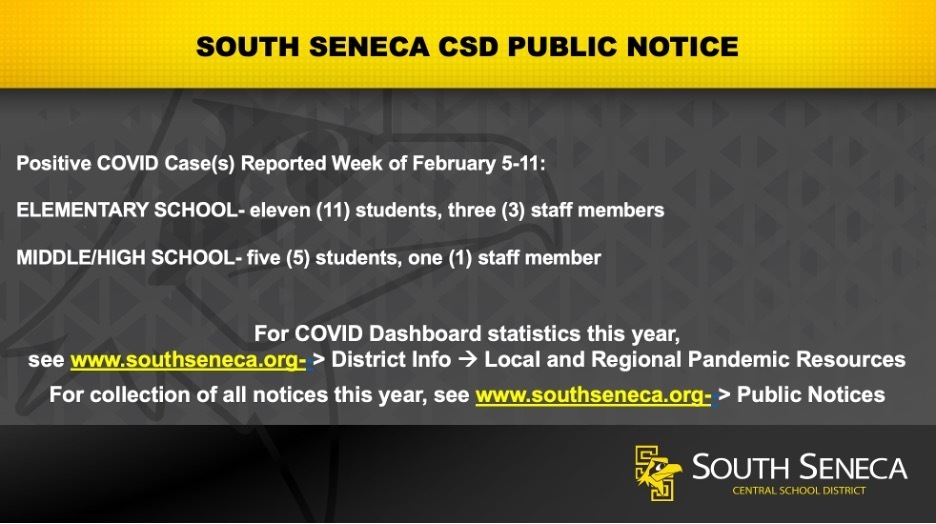 Our partners at the Council for Alcoholism and Addictions of the Finger Lakes is launching a new program in Seneca County, called the Triple P! The Triple P (Positive Parenting Program) is a FREE program offered through the Council on Alcoholism & Addictions of the Finger Lakes to help improve the lives of families in Seneca County. Topics are divided into four sessions, and participants can choose to attend one, two, three or all four sessions. Each session is two hours long and caregivers are encouraged to discuss problems they are experiencing so that they can find positive solutions for themselves, their children and their families. Sessions are for adults only and are focused around two age groups: children ages 0-12 and teens. No registration form is required: Just a simple phone call to 315-789-0310 to register for the next session (offered day and evenings to accommodate the caregiver's schedule, individual or group discussions).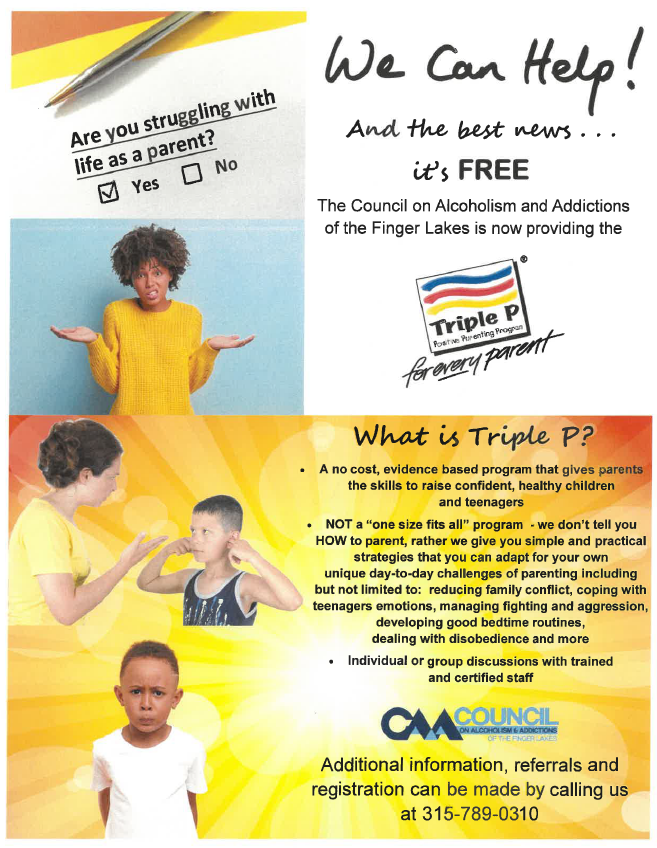 Attention South Seneca Families: The 2022 South Seneca High School Yearbook is on sale now through February 11th for $48.60 You must order by 2/11 to guarantee a your copy of this amazing yearbook we are creating! Please visit
www.jostens.com
or call 1-877-767-5217 to order. *Payment plans are available Don't miss out, order by 2/11/22 to be guaranteed a yearbook! Remember the year forever with a South Seneca High School yearbook filled with a year's worth of memories. Signed, The Yearbook Staff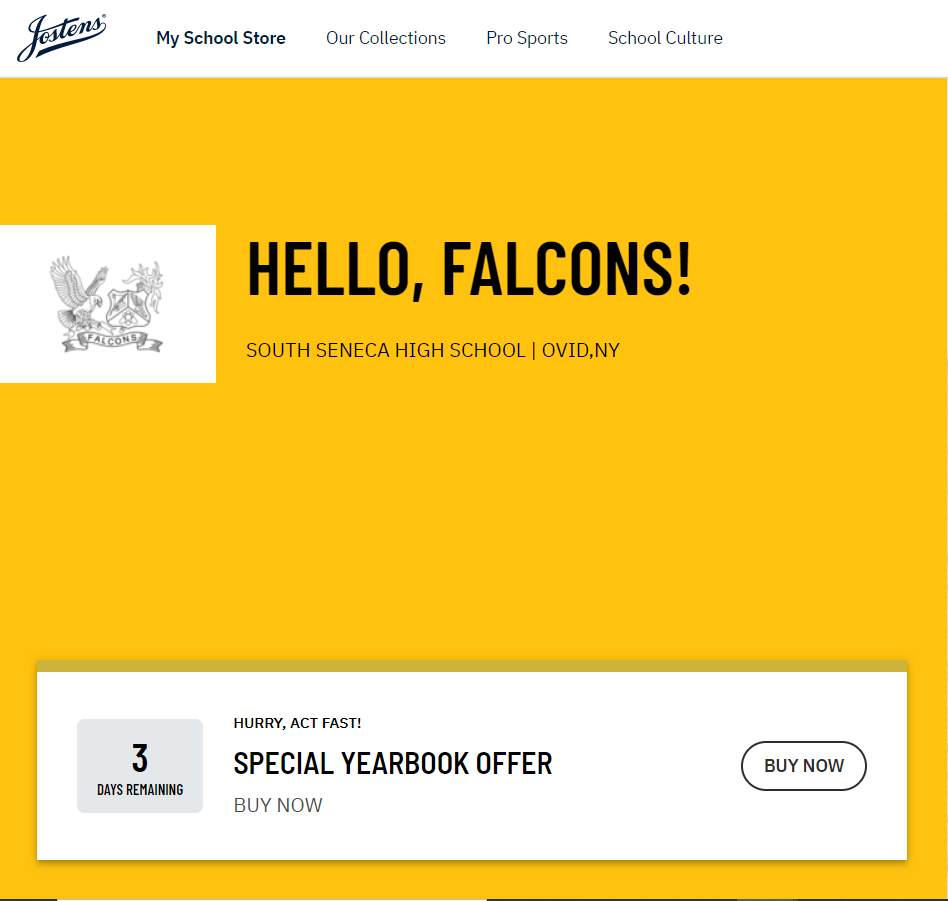 The South Seneca Board of Education will hold its regular meeting Wednesday, February 9 at 7pm in the Elementary School Auditorium, Interlaken.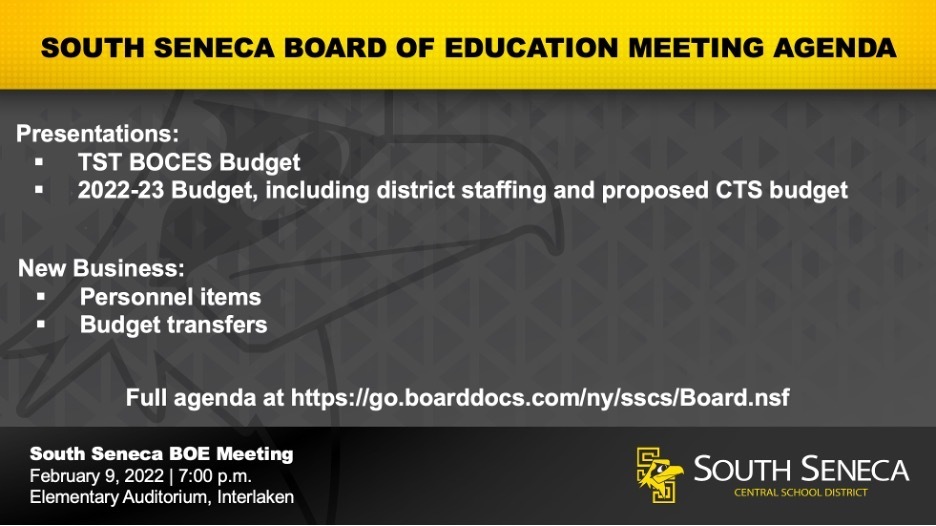 Public Notice February 4: South Seneca received reports of 37 new positive COVID test results in the past week-- 30 students, and 7 staff members.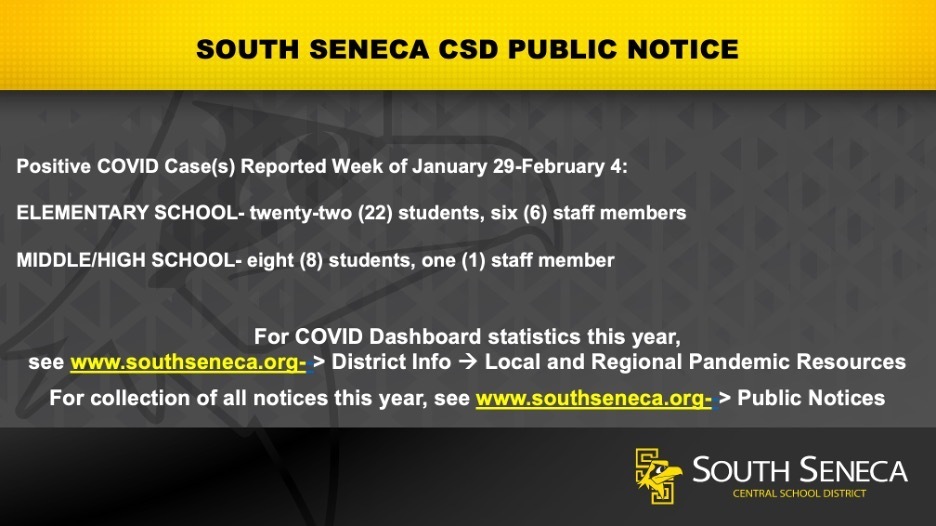 With heavy snowfall expected to continue overnight and into the early morning hours, South Seneca will remain closed for Friday February 4. No classes will be held in the district, in-person or remote. Stay safe everyone!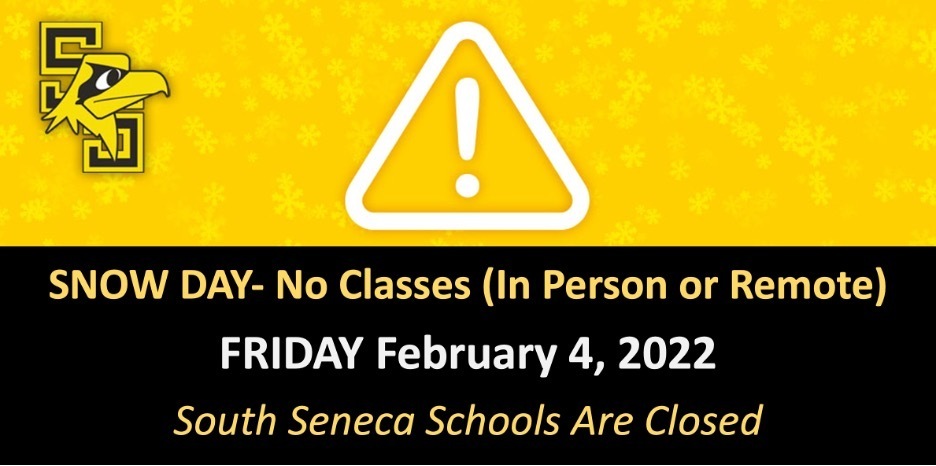 With persistent snowfall expected to arrive this afternoon, South Seneca will be CLOSED Thursday, February 3. All classes in the district are canceled, both in person and remote.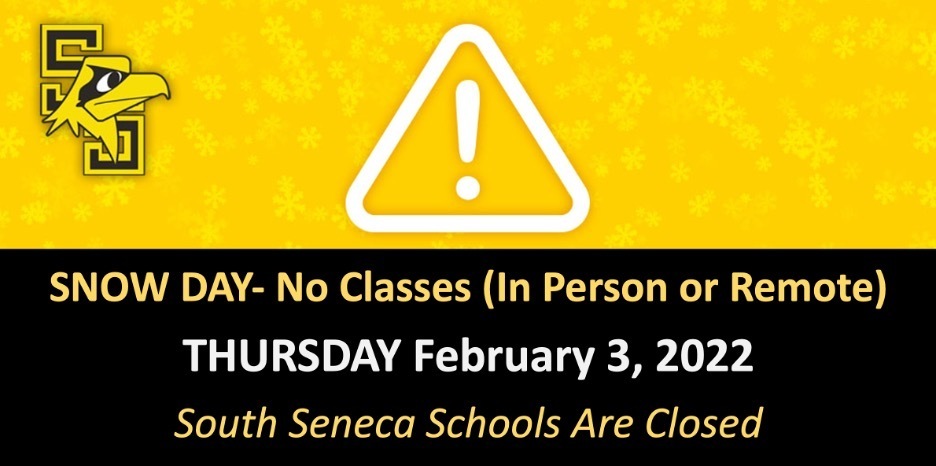 We're looking for a long-term 2nd grade teacher to join the Falcon Family! The position is set to start around March 1st. Interested? Apply below!

Did you know we offer Career & Technical training courses through our partnership with TST BOCES? Come check out their Open House!