After a couple years of thwarted and or altered productions, the South Seneca Falcon Players are ready to hit the stage this year with "Tiny Tim: A Christmas Carol Revisited."
Tiny Tim will be performed on stage at the South Seneca High School Auditorium in Ovid, NY, on Friday, December 2 at 7:30 p.m; Saturday, December 3 at 7:30 p.m. and Sunday, December 4 at 2:00 p.m. Tickets may be purchased at the door, prices are $6 for general admission and $5 for students and senior citizens.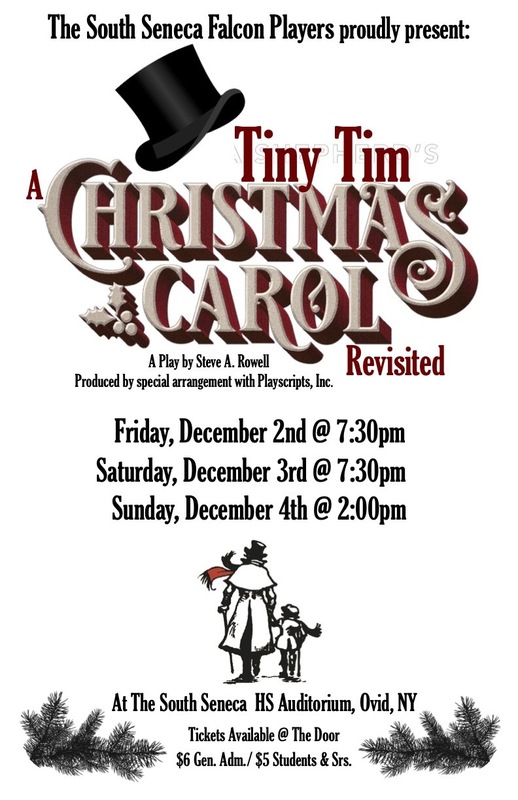 South Seneca Musical Director Tina Bauder noted that it will be the most "normal" production in the last couple of years. That said, it's also a very young cast, and that has come with its own challenges.
"We have a very young group of students interested in theatre this year, mostly sixth and seventh graders," Bauder said. "We needed a show that could meet the needs of working with very young actors. With such a young crew of actors, we are doing a lot of teaching theatre for the first time. Every aspect of our production has had to be taught, modeled and explained. In many ways we are starting over with a new group."
"Tiny Tim" is described as the Christmas Carol with a twist. It is a play by Steve A. Rowell and produced by special arrangement with Playscripts, inc. The plot is such: Tiny Tim Cratchit has grown up, emigrated to America, and set up shop in New York City. Along the way, though, he has lost his Christmas spirit. On Christmas Eve of 1899, it is up to his dear departed Uncle Scrooge to help him find it again – with assistance from the Ghosts of Christmases Past, Present and Future. "Tiny Tim" faithfully retells Dickens' classic tale with a distinctive American twist. This one act play also includes classic carols that are sure to spark your holiday spirit, and Bauder hopes South Seneca families come out together to do just that.
"At the risk of sounding too sappy," Bauder said, "my greatest hope is to bring people together around a story that they can, for an hour or so, see the good in the world and perhaps get some ideas to help them move forward to share that good themselves. At one point in our play, Scrooge says: 'A human's life is a delicate thing. It takes so little to make such a wrong turn and so much work to find your way back.' This is a story of redemption, forgiveness and love. I believe the world needs much more of this in our everyday lives."
Bauder believes that even though her cast is young, they will be up to the task of bringing this story to life for the audience.
"I am truly excited about everyone of our 15 cast members performing in Tiny Tim," she said. "Each one has their own story and personal hurdles to overcome as they learn how to play a part and that each actor in our production is as important to the next. They have taken to heart the 'there is no such thing as a small part, only small actors' mentality and even if they don't have any lines of their own, they know how important every character in a play is. It is very exciting to see the potential in these young people and to know that we are shaping them into stronger performers each day."
She added that she was especially excited about the plays two leads: Junior Abbey Sherry and sixth grader Sophia Jennings.
"Abby is very determined that her remaining high school years will be filled with the music and theatre experiences that she has looked forward to since middle school," Bauder said. "As for Sophia, she has been working very hard to create her character, memorize all of those lines and still juggle being involved in many other music/performance groups. I am proud of all of our students who are juggling being involved in our show as well as balancing additional activities and school work. These students give me hope. I am very proud of all of their efforts."