South Seneca High School sophomore Sam Dufour recently was named to the Finger Lakes West All-Stars First Team. He was one of only 45 golfers across the region to qualify to play in the 2022 Finger Lakes League Tournament and Sectional Qualifier.
Not bad for his first year on the Romulus/South Seneca golf team, led by Coach Jeff Felice. Dufour reflected on what his accomplishment meant to him.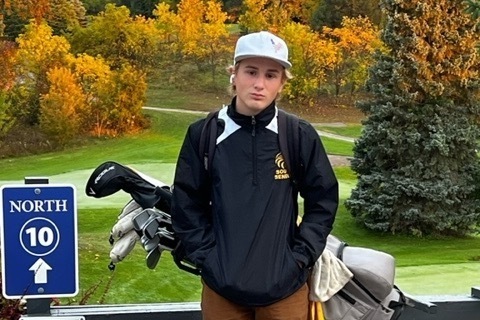 "It means a lot to me to have made the Finger Lakes West All Stars/ First team," he said, "and to have qualified for the Finger Lakes League Tournament/Sectional Qualifier. I was a little nervous at the start of the season. It was my first year playing on the golf team and most of the opponents I was playing were older and had been playing on their teams for a long time. I wasn't sure if I was going to be able to play well at this level."
Dufour said he has been playing golf since he was just four years old, and is thankful that his father Jon Dufour for getting him into the game at such a young age.
"I have been golfing for about 11 years," he said. "I credit my success to my dad for taking me golfing so much and for teaching me how to golf. I also give credit to Coach Felice for working with me this year."
Although he's been golfing for more than a decade, Dufour said it was just recently that he started to break through.
"I have been golfing for a long time," he said, " but last year I realized I was as getting pretty good because I started to beat my dad. The strongest part of my game is hitting off the tee and my iron play is also pretty strong. I am working on improving my short game around the greens."
Dufour said his goals for next year are to make the Finger Lakes West All-Stars First Team again, and to "play in sectionals and hopefully win." He added that his long-term goal is to keep getting better, and hopefully be good enough to play in college.