South Seneca High School alum Kari Ganoung Ruiz recently paid a visit to her old stomping grounds on Tuesday, March 8. This time she was the teacher.
Ganoung Ruiz, class of 1994, was a special guest for Breana Copp's high school art classes. Now living in Interlaken, Ganoung Ruiz does art for a living. You can find her available paintings and upcoming events on her website at KariGanounRuiz.com.
"I travel the country doing plein air painting competitions and festivals," she said. "I also teach workshops and classes across the country – and on Zoom."
Although it was a bit chilly outside, Copp's students braved the temperatures to watch Ganoung Ruiz quickly paint some trees along the campus's main entrance. This was a chance for Ganoung Ruiz to show the students what she specializes in: an art style referred to as "en plein air" — the act of painting outdoors.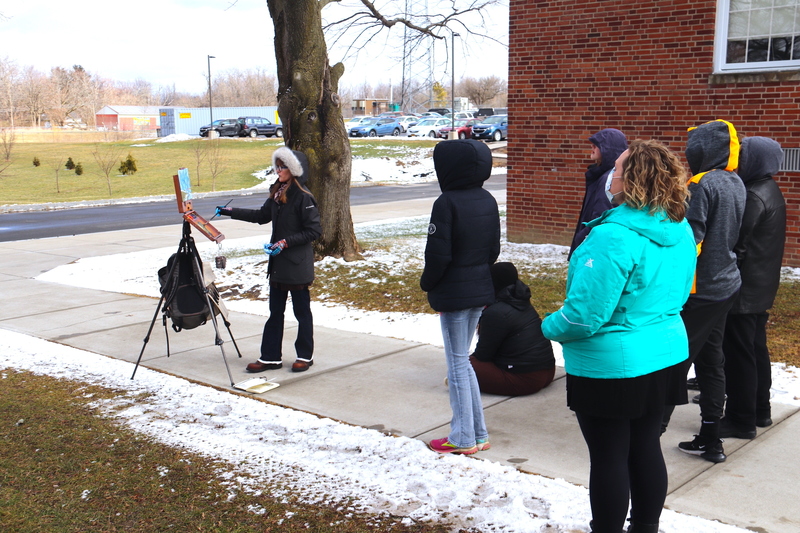 Ganoung Ruiz wanted the students to be able to see her process in real time.
"We're going to be painting this scene right here," she explained, "right down the driveway, plein air, and I'm going to try to do it as quickly as possible so that they all don't freeze – and still get a feel for what's it like to look at a scene and actually capture that in paint in a timely manner."
Copp said her students would be working on and completing their own renditions over the next two weeks.