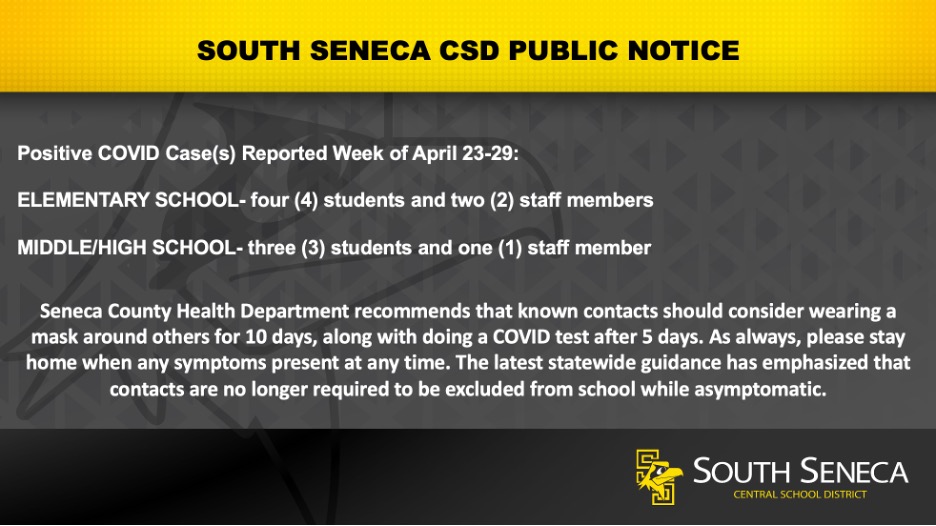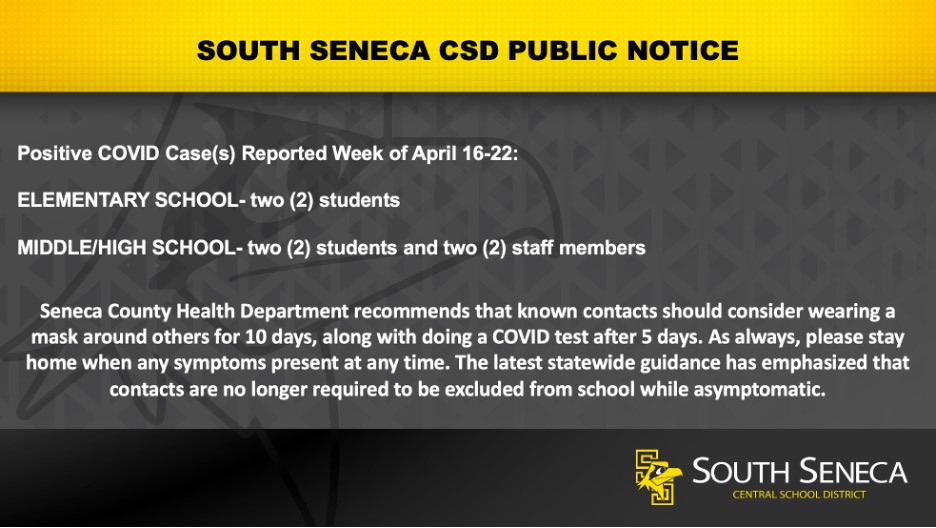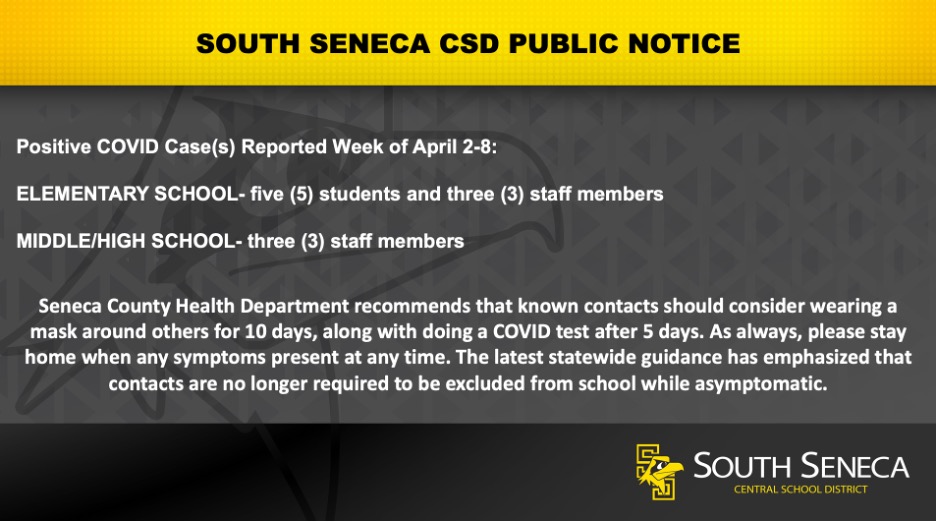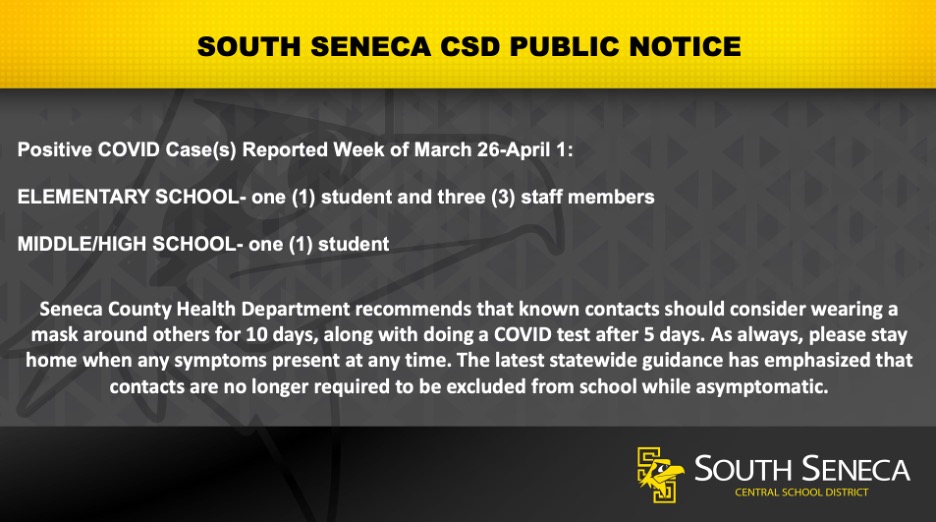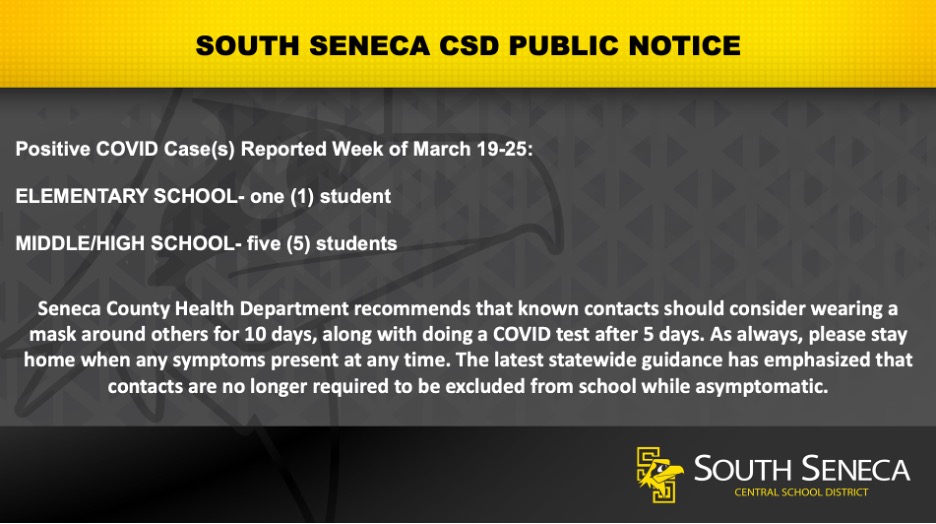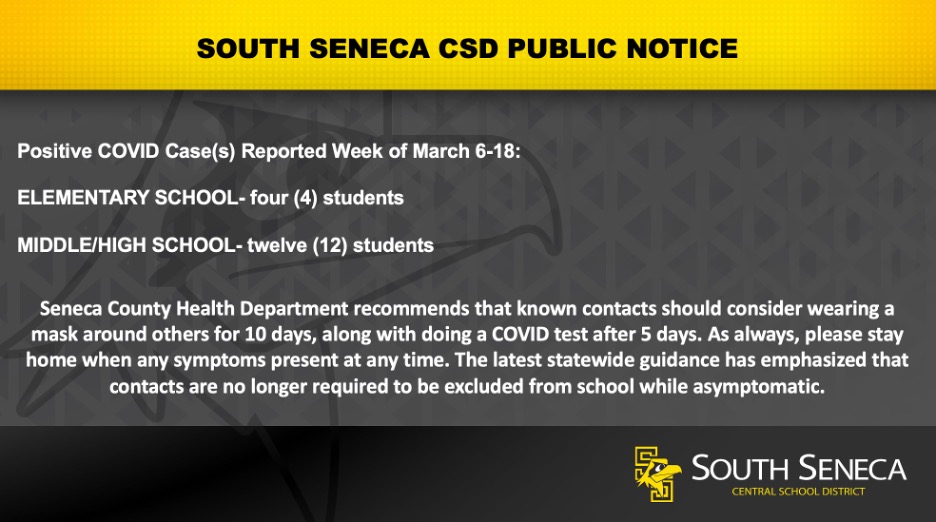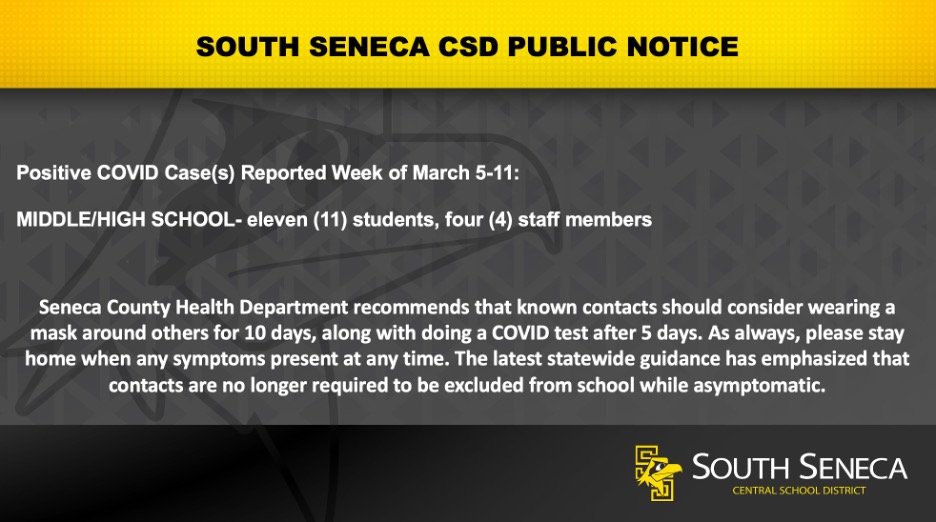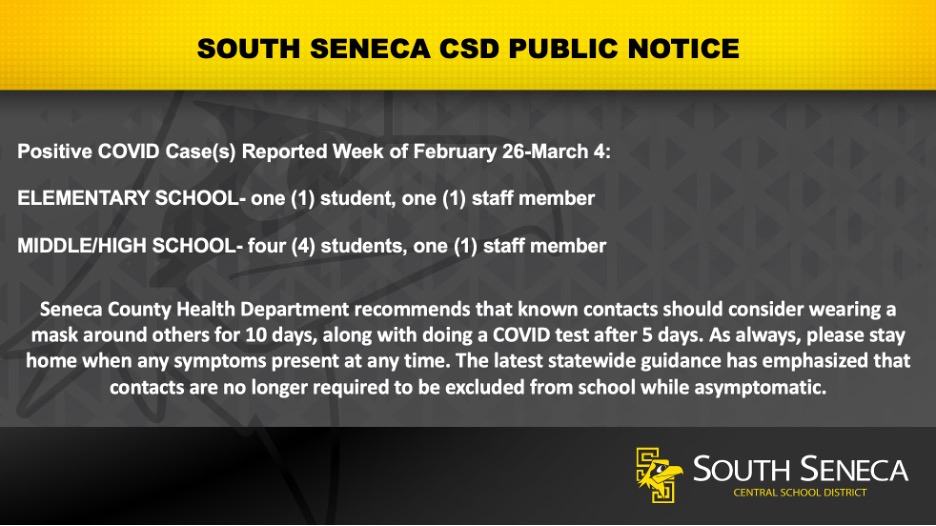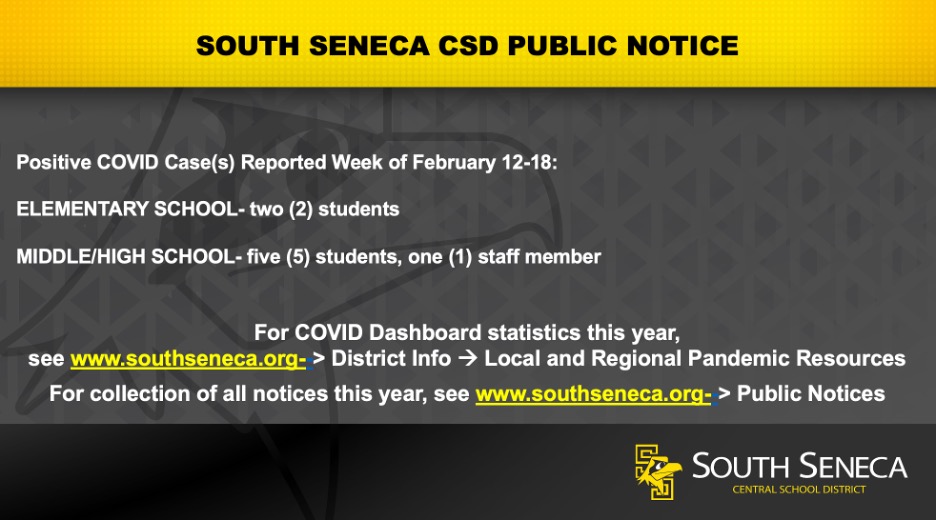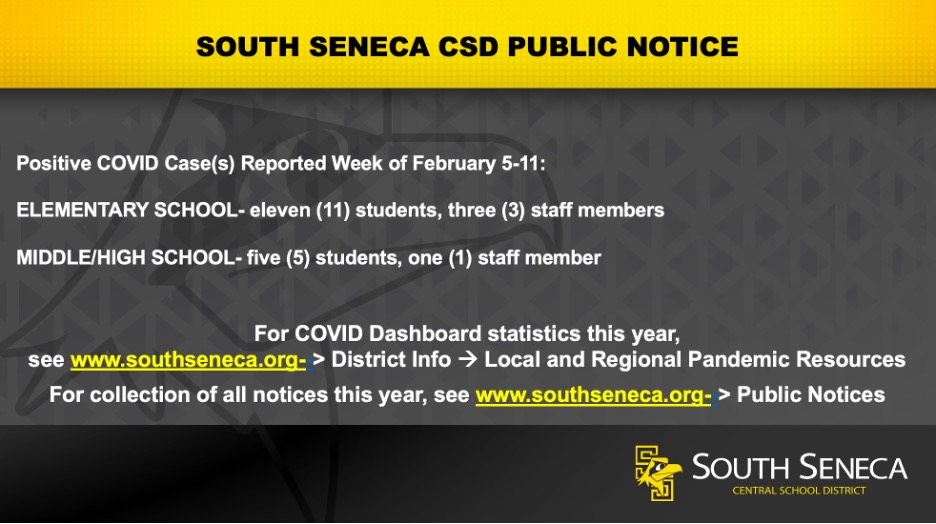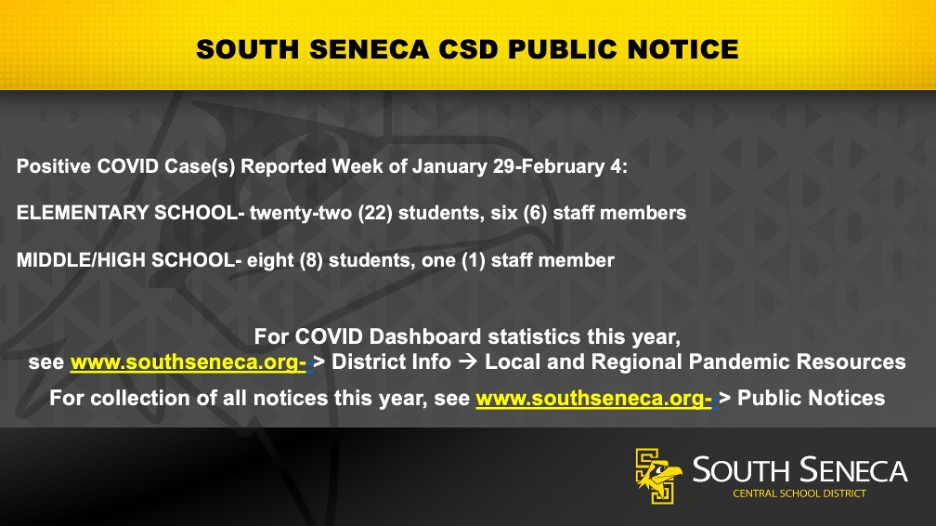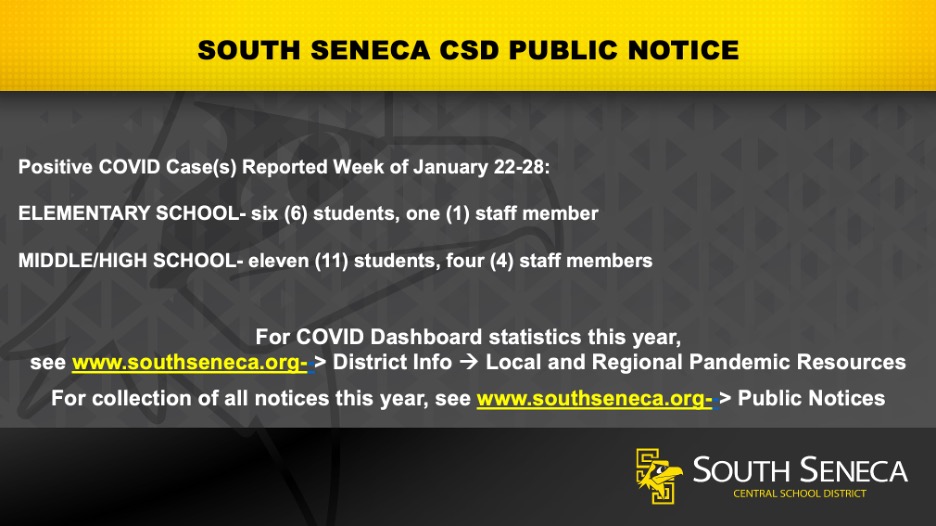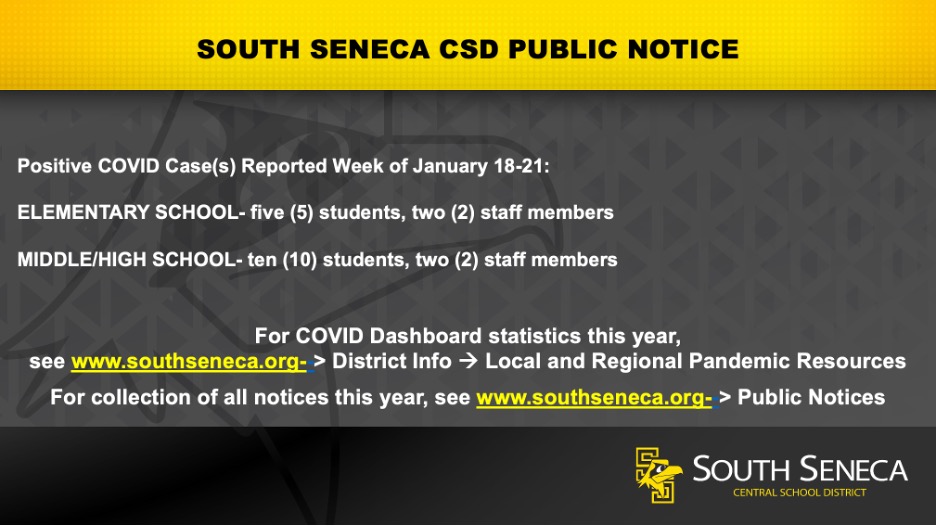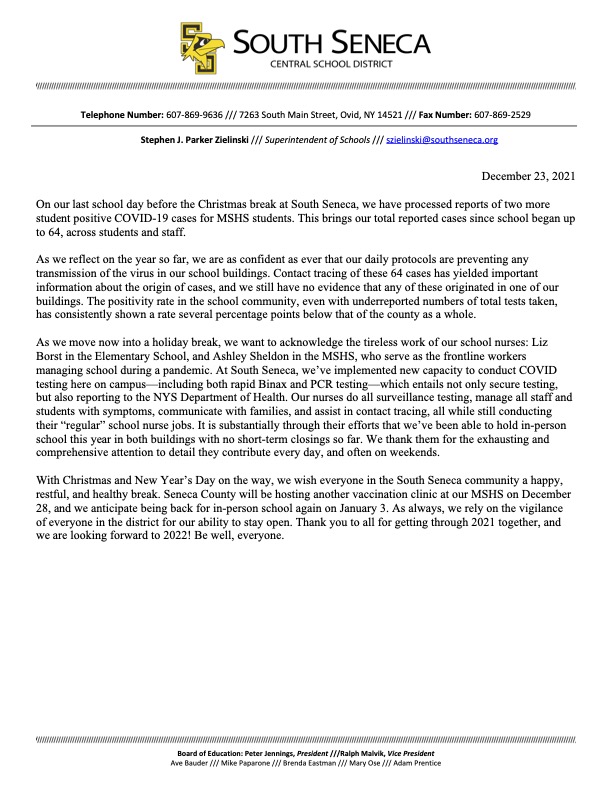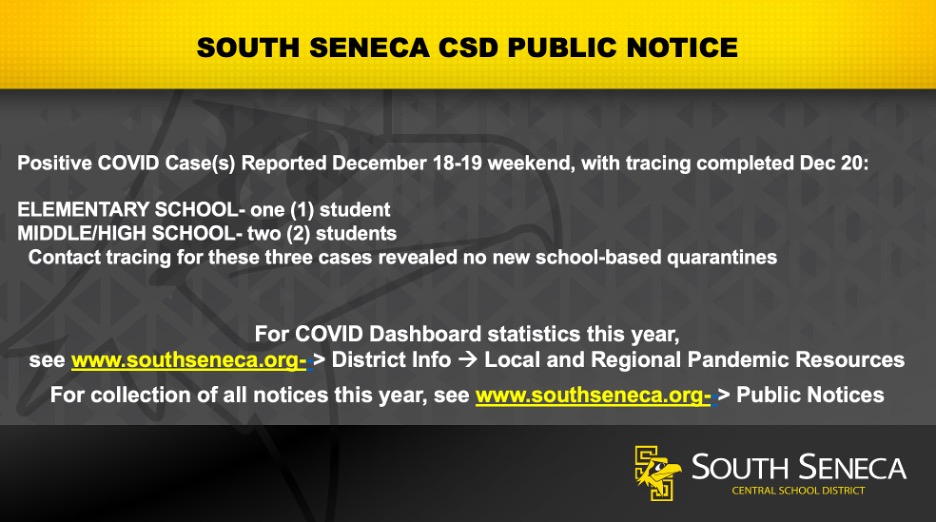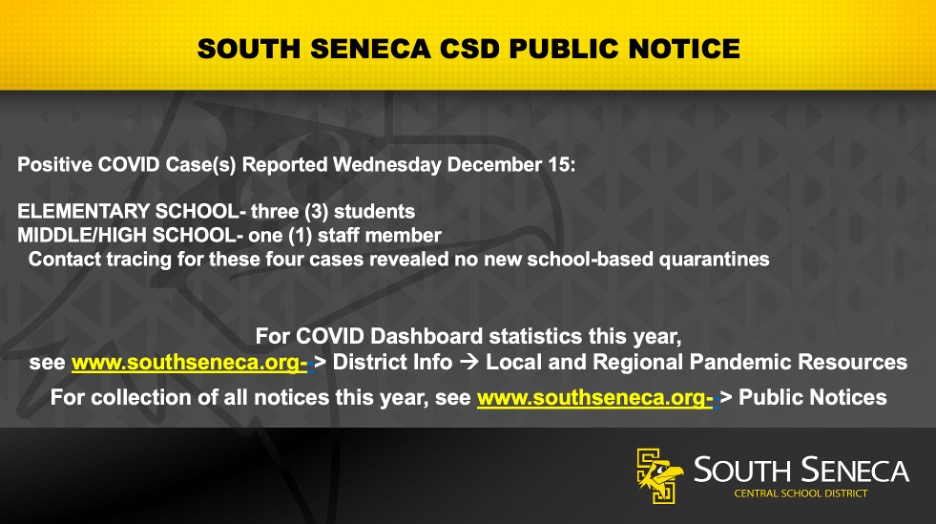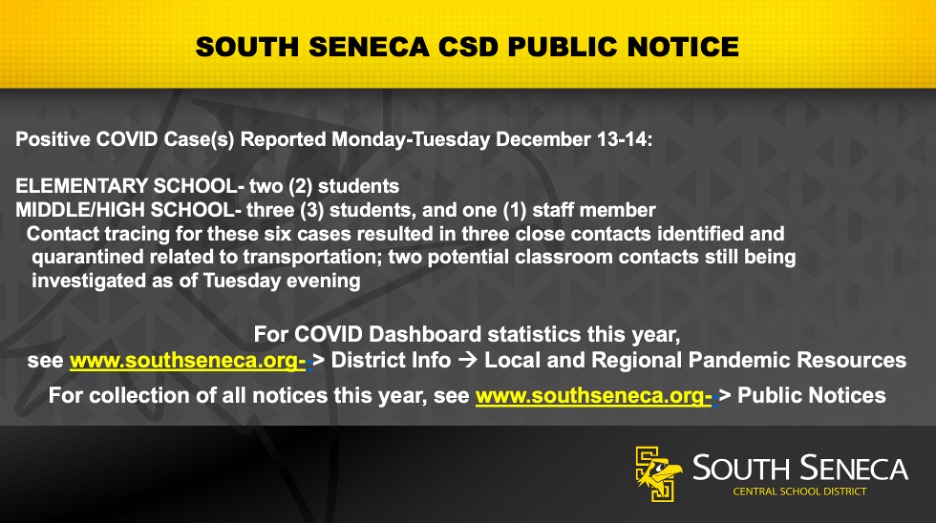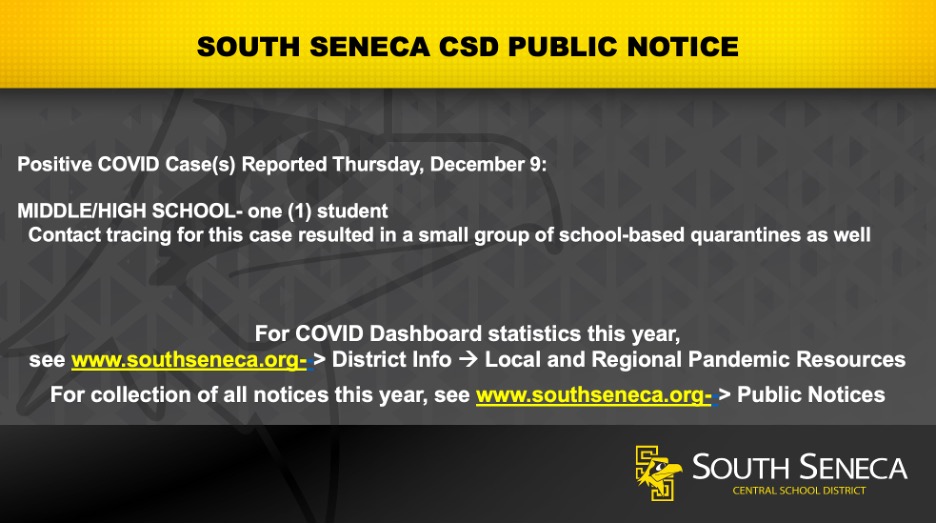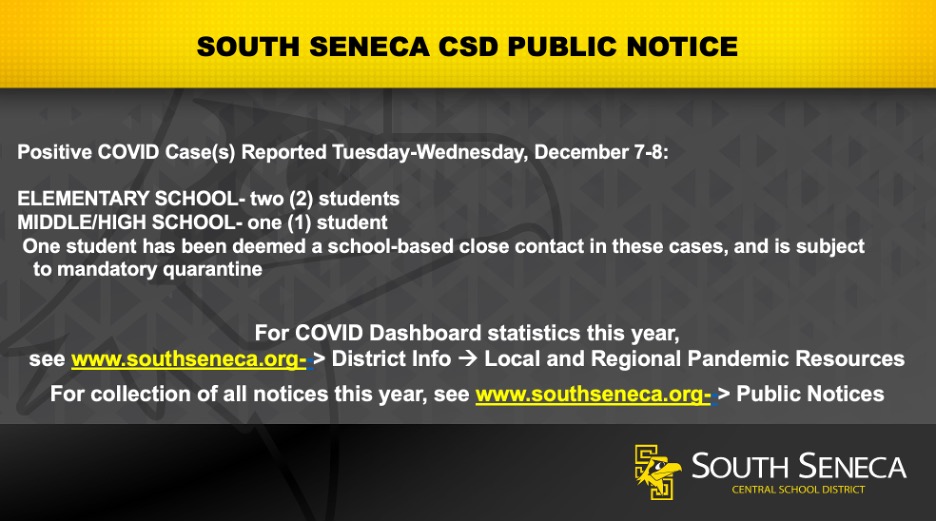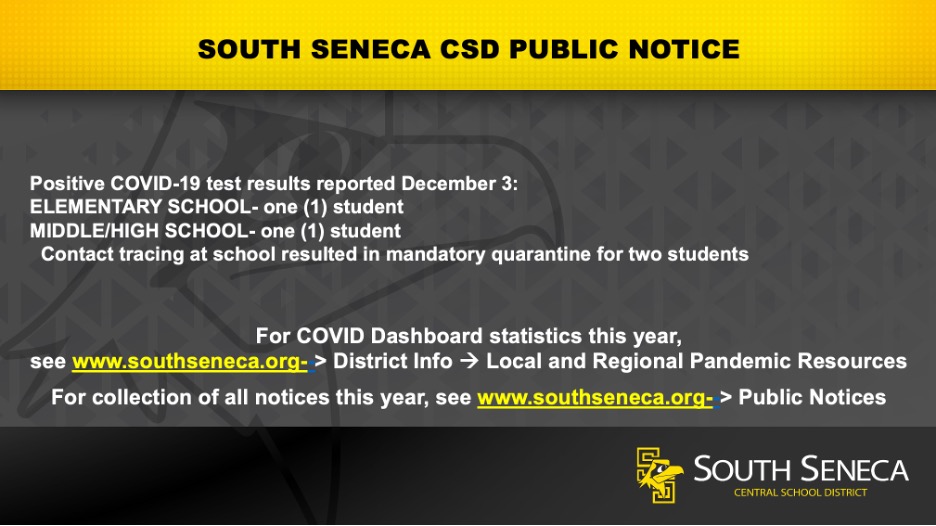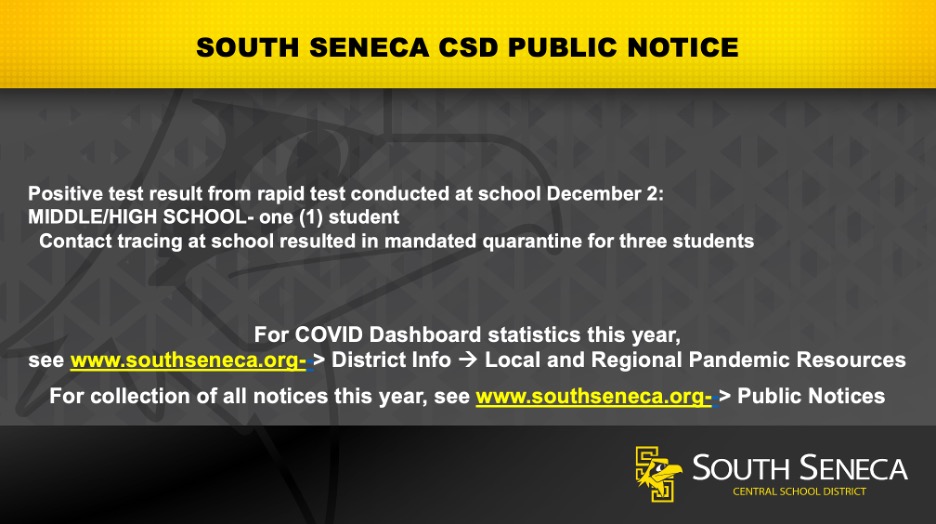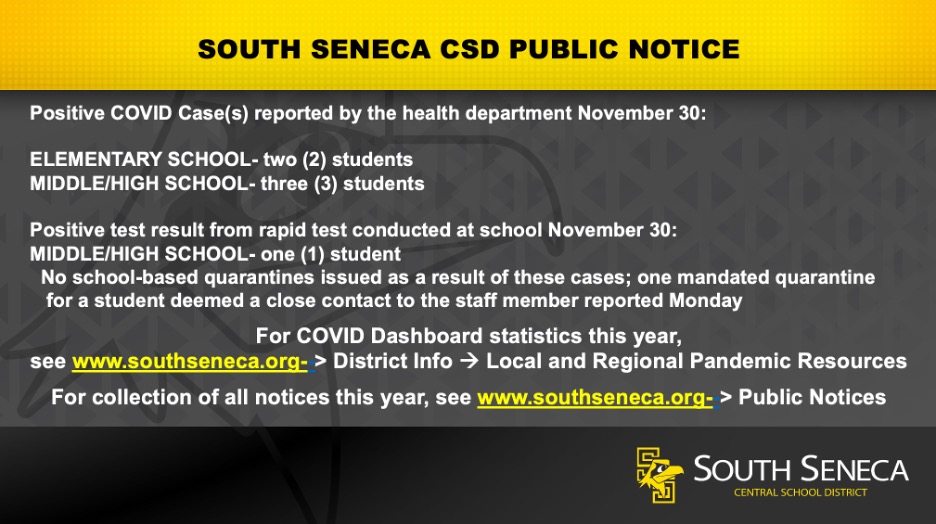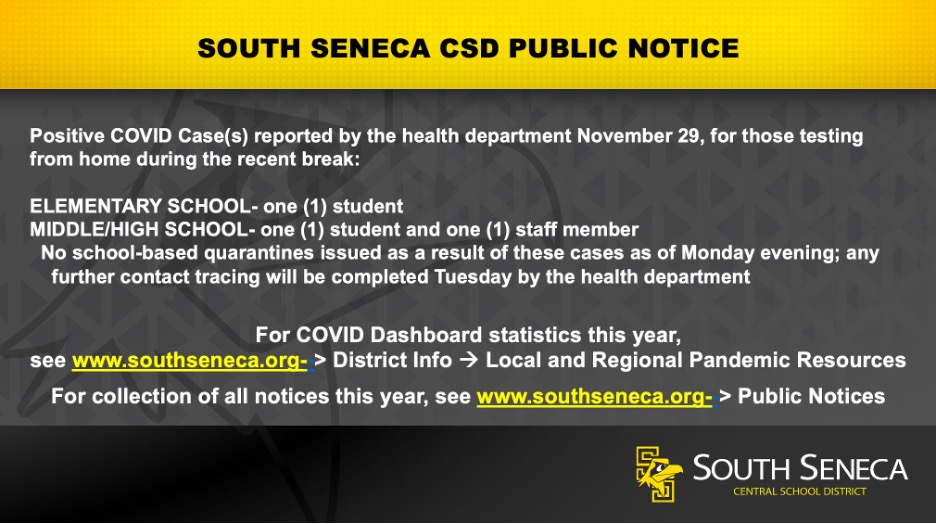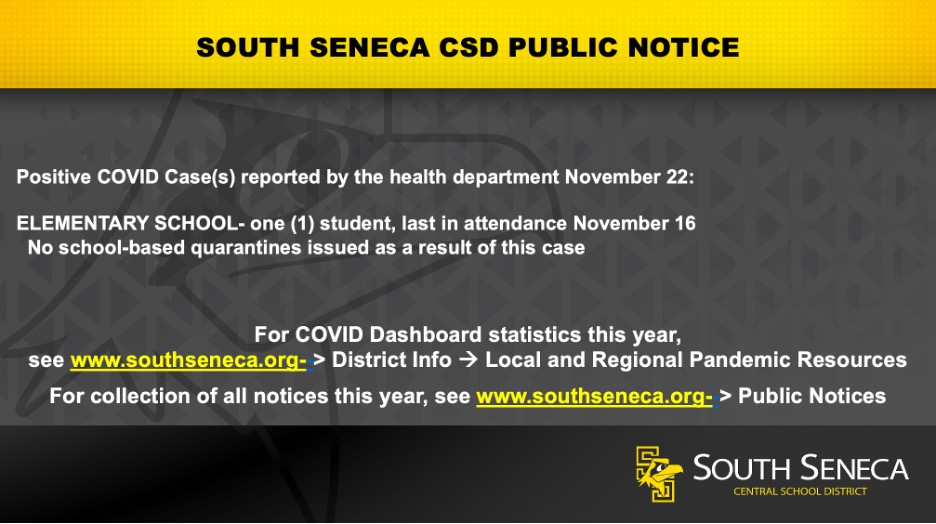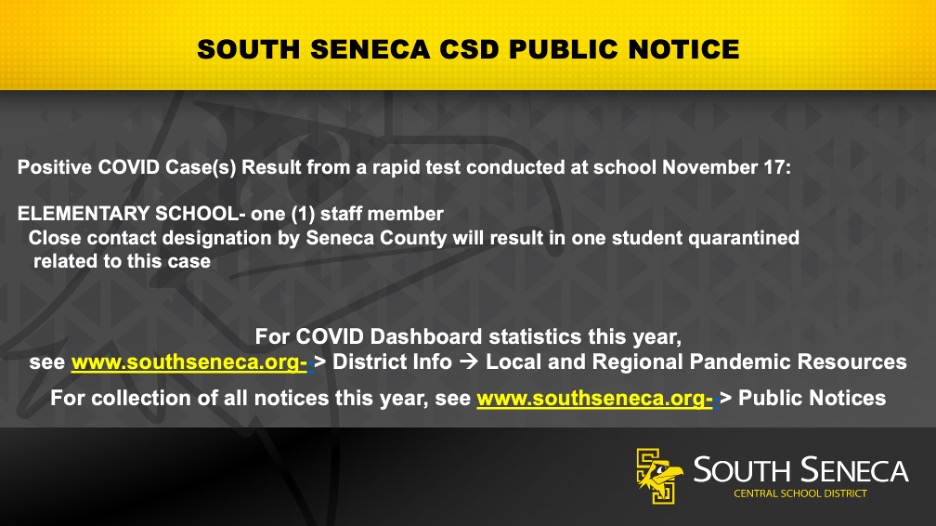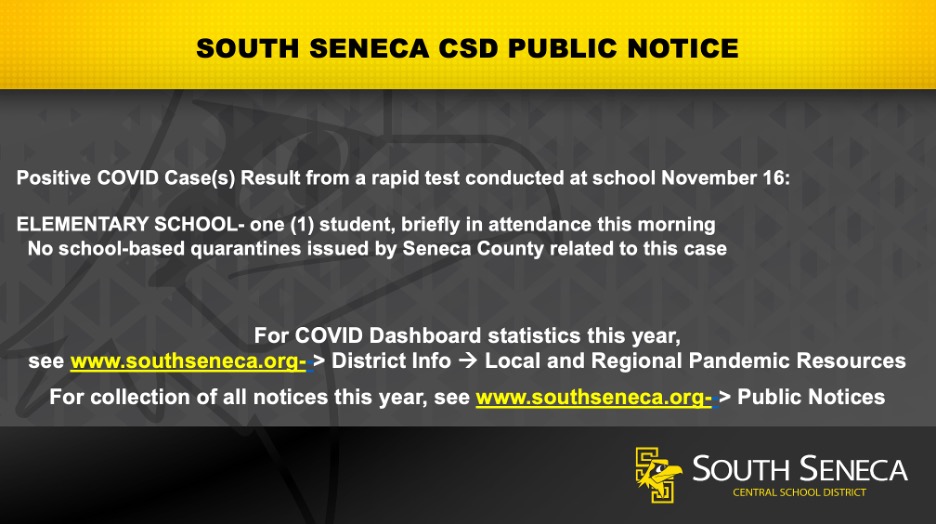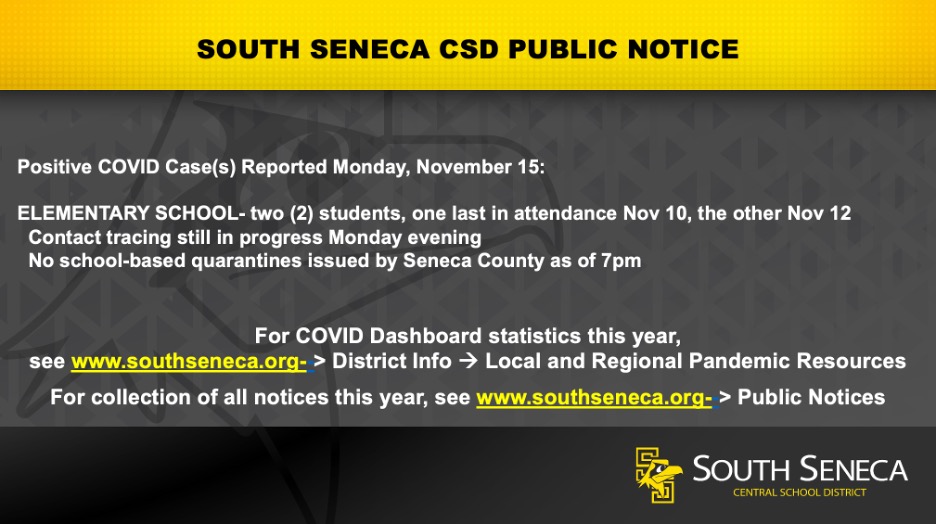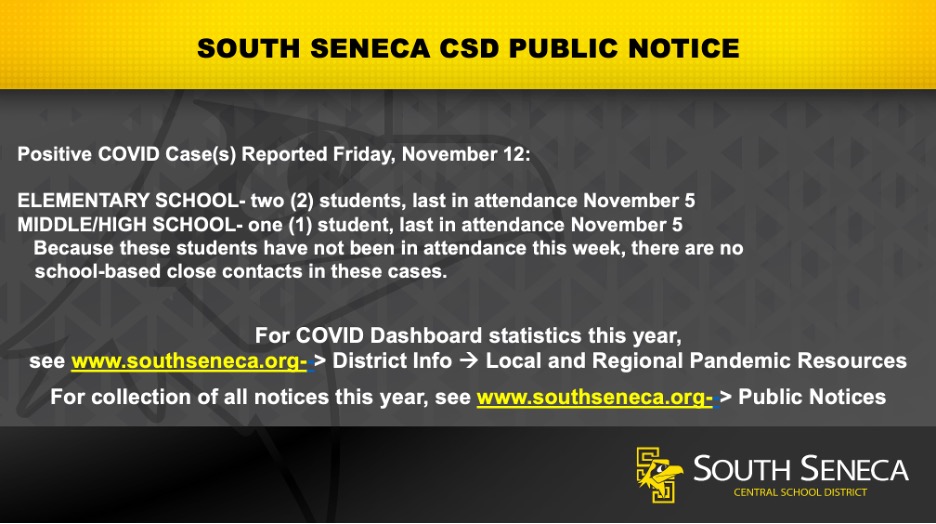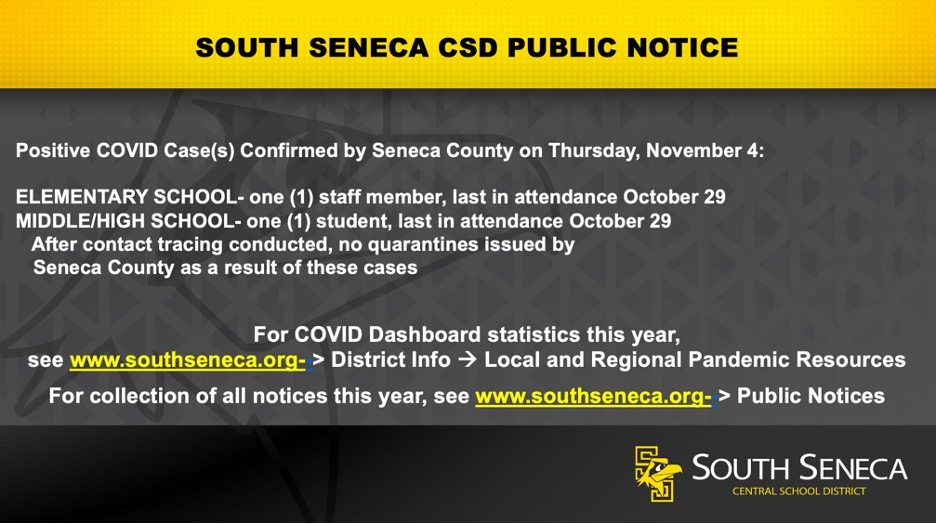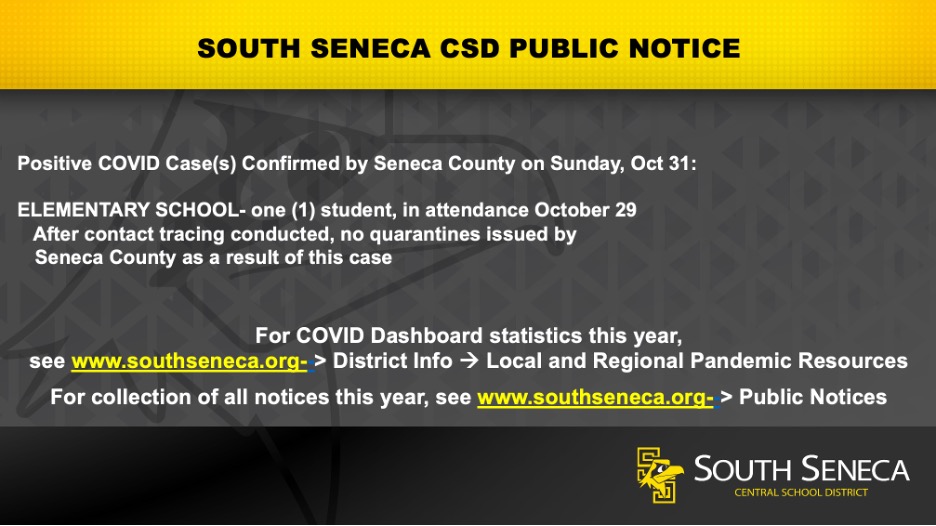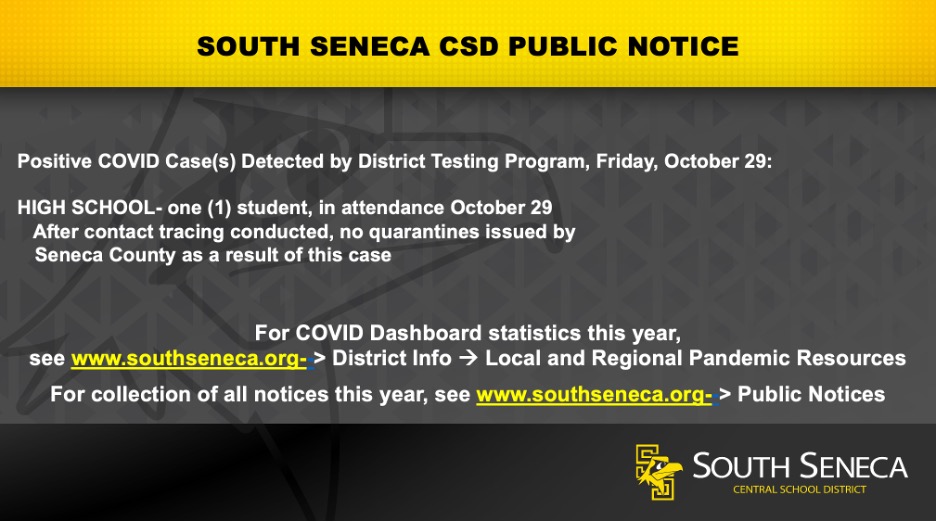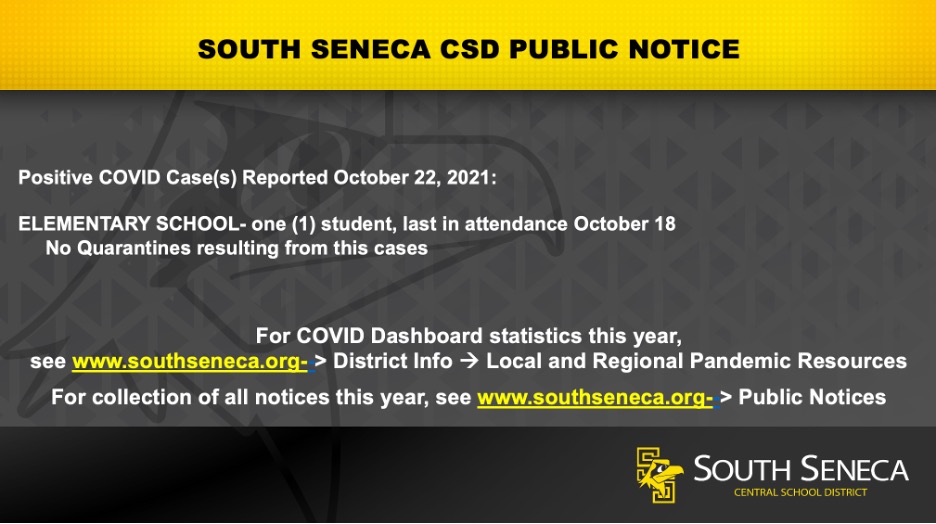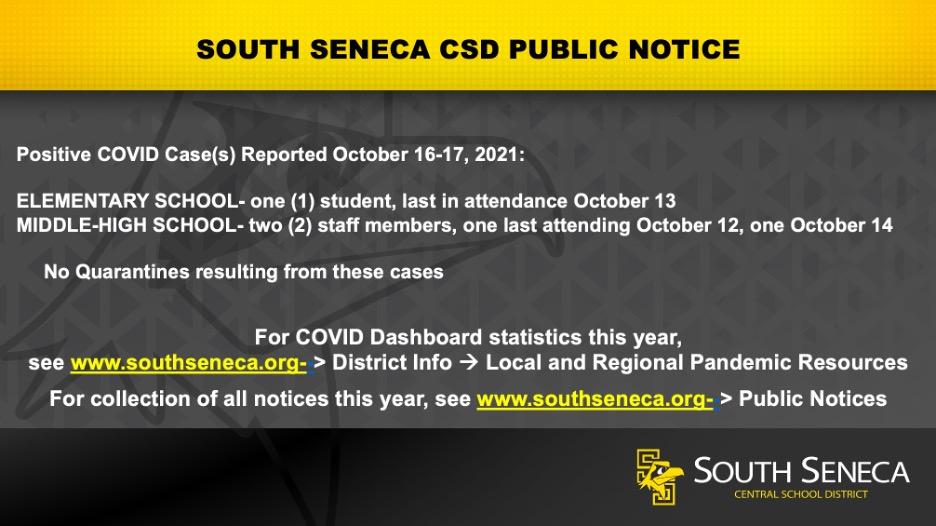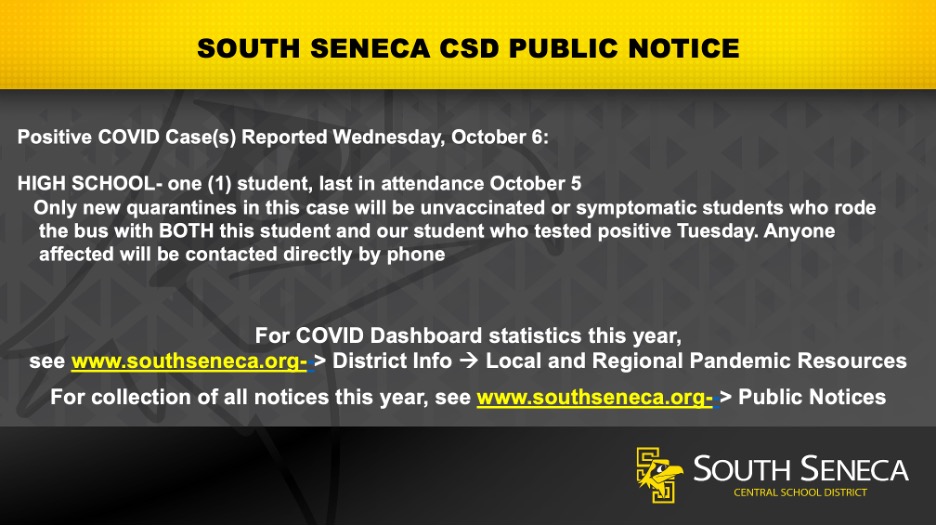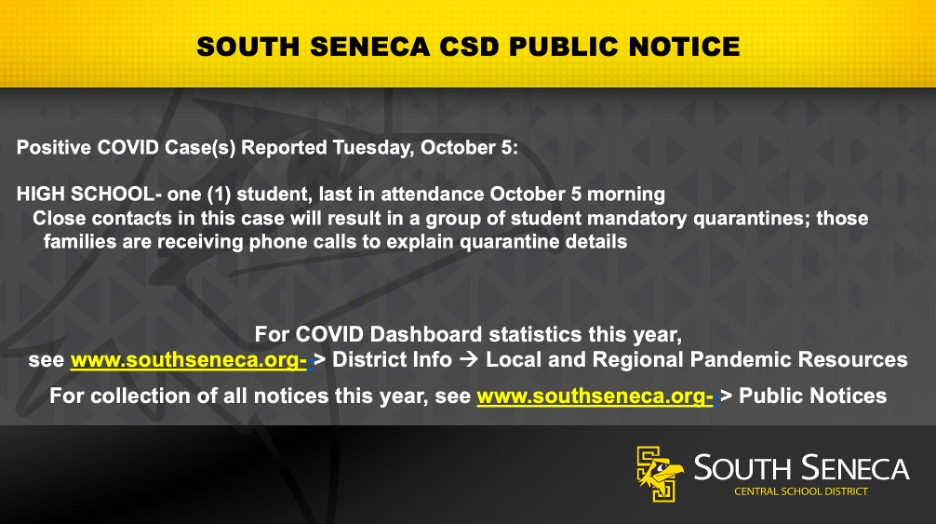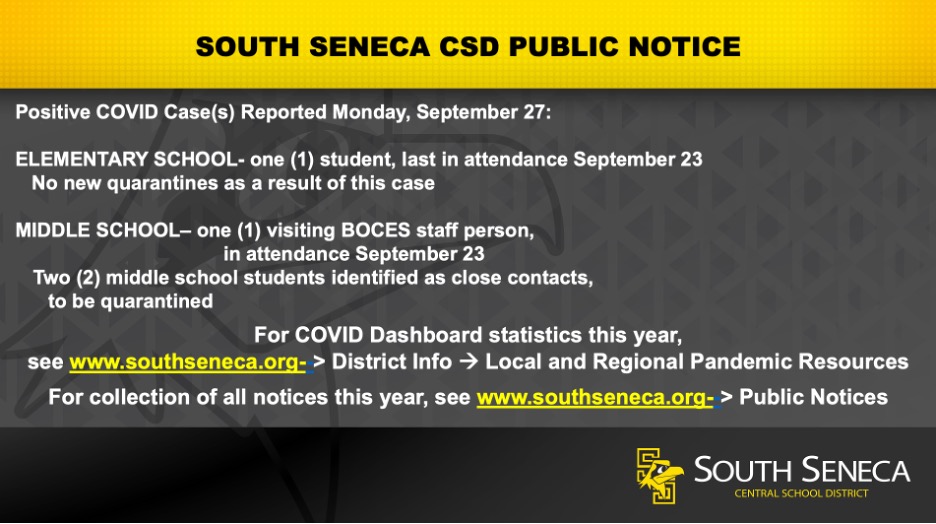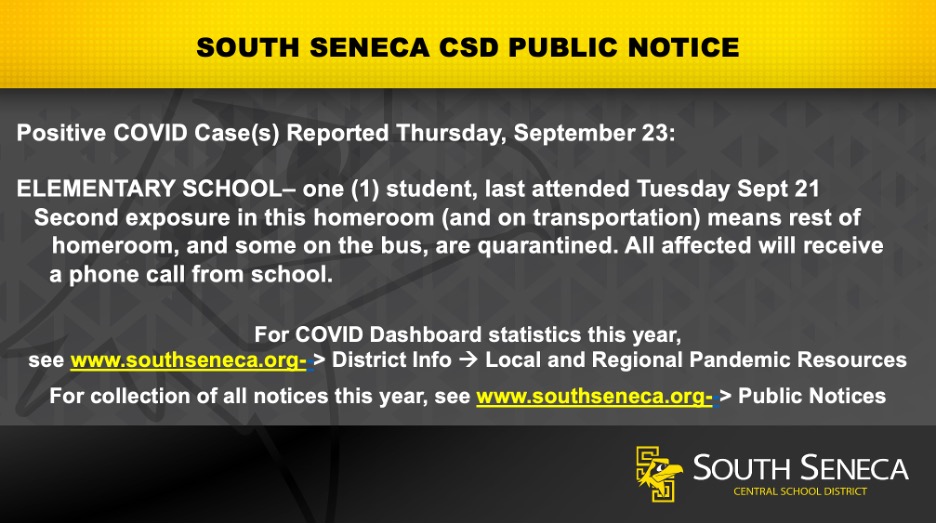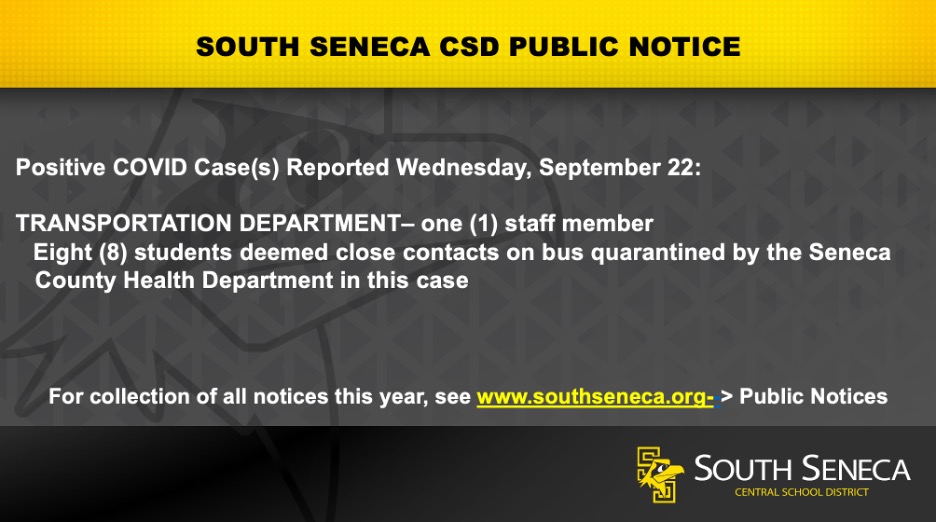 September 21, 2021
South Seneca received notice today of one more positive COVID test result: a staff member in the Elementary School. There are no further quarantines mandated as a result of this case.
Each school day now, we are receiving reports of tests that are pending, and when tests come back positive, any close contacts that must be quarantined as a result. In some cases, we receive this information from families at home where a member of the household has tested positive. All of the communication is helpful as we monitor the status of each student and each staff member. For as long as Seneca County remains in a high transmission rate classification, we must remain vigilant to ensure we work together to keep everyone safe, and to keep our programs in operation.
September 20, 2021
Today we received notice of two positive COVID test results: both staff members, and one from each building. Contact tracing from each of these is ongoing in collaboration with the Seneca County Health Department.
The case in the Elementary building will result in no new quarantines, but there is an added factor for the Middle-High School. In that case, the staff member interacted with some of the same classes as the staff who tested positive last week. The "double exposure" within a few attendance days will unfortunately mean that some students will be quarantined. In all cases, the affected individuals will receive phone calls to review the time frames, and to arrange for remote access to classes while they are out.
We continue to urge anyone with symptoms to remain home.
September 16, 2021
Dear South Seneca Community:
Today is the third school day in a row with new COVID-19 cases to report, and we recognize that seeing a daily public notice with new individuals testing positive is a concern. We share the concern. With about 850 people reporting to our buildings each day, we are seeing firsthand how aggressive and contagious the current strain of virus is as it spreads. We are monitoring each of the active cases as we hope symptoms remain mild for those affected.
At the same time, we can see that new provisions in the contact tracing process are allowing most in-school individuals to avoid being quarantined. Only when two or more cases present in the same group (like recently on our football team and in one elementary classroom) are full groups being quarantined. If we pay strong attention to our safety measures, catch cases at the outset, and isolate close contacts of the positive case, we still have every reason to believe we can keep buildings and programs up and running.
This afternoon, we received confirmation of two staff members in our Middle-High School who had tested positive, and in each of those cases, staying home at the outset of symptoms made the difference in preventing quarantine for others. As we've communicated several times now, it's more important than ever to take even mild symptoms seriously and to stay home until they resolve or until you get a negative COVID test. We are relying on the community's efforts here to continue to be open for school every day of the 2021-22 year. Thank you!
September 15, 2021
Today's report from the Seneca County Health Department confirmed one new positive COVID test result for an elementary student. This student last attended school on Monday, September 13. Initial contact tracing around this case has not resulted in any new additions to mandatory quarantines.
With each of these public notices we want to take the time to remind everyone to do their part to minimize spread of the virus in our school buildings. This includes staying home with any symptoms, following all existing safety protocols while in school, and keeping strong lines of communication open as we monitor new suspected cases and reports of those being tested.
Thank you!
September 14, 2021
This afternoon the Seneca County Health Department informed the district that an elementary student, last in attendance on Friday September 10, had tested positive for COVID-19. Contact tracing in this case will mean that two other elementary students from that same household will be quarantined.
Each day now we are also aware of multiple COVID tests that are pending, and we do continue to see students sent home from school with symptoms. We continue to urge everyone this year in the school community to stay home if symptoms present, and to do everything in our control to prevent transmission of the virus.
September 10, 2021
As we finish up our first week back in school, we are very much aware that members of our school community will continue to present with symptoms, and some of those will test positive for COVID-19. As long as Seneca County remains in a High transmission classification, it is likely that we will keep having new positive cases to report. Our latest two student cases are from the Elementary School, and we are very hopeful that symptoms remain mild for these students. One of them was in school only on our first day (Tuesday September 7), and the other attended this full week.
Initial contact tracing conducted by the Seneca County Health Department after discovery of the first case indicated no need to quarantine any contacts from inside the building, as all required safety protocols are being observed. One student was quarantined from a bus ride with our infected student; this happened because the contact was also exhibiting symptoms, but we have no reason to believe these symptoms are connected to the exposure.
An update from the notice initially released near 2pm:
Late on Friday afternoon, when the second case was discovered from the same home base class, the Health Department made the decision to quarantine that class.
Each of these families is being contacted by phone to get details of the quarantine, which is done out of an abundance of caution.
It can be confusing to all of us when an individual presents with minor symptoms, as we never know immediately if COVID can be ruled out as a cause. It is relatively common for very young children to exhibit a range of minor symptoms in any school year. This year, all adults and guardians of children in the South Seneca community have signed an attestation form that we will keep anyone with symptoms at home, and it is part of the reason we can have confidence that new cases can be isolated. Thank you as always for doing your part to minimize the impact the pandemic has on our ability to remain open this year.
September 9, 2021
Today we received word from the Seneca County Health Department that another of our Middle-High School students has tested positive for COVID-19. This student was in attendance in school for the first two days, and is also on the varsity football team.
Because this is the second positive case affecting the team in a week, the Health Department is placing the team itself on 'PAUSE', and some players and coaches are entering mandatory quarantine. We will continue daily contact with the department to determine when the season can resume, and the school will be immediately making arrangements to allow quarantined students to work remotely.
As long as we remain in a high transmission rate category, it is especially important for everyone to do all we can to minimize spread of the virus. We remain committed to keeping our buildings and our programs active as much as is possible, and we count on our whole community to do its part.
September 7, 2021
Today the Seneca County Health Department made us aware of another of our Middle-High School students who has tested positive for COVID-19. While the student has had some contact with others through the athletics program at South Seneca, contact tracing has not resulted in the quarantine of any other athletes as a result of this case. We extend our best wishes to this student for a quick recovery.
Just as we communicated with our earlier notice of cases, we continue to urge our school community to do everything possible to mitigate the spread of viruses. Working together, we can minimize illnesses and keep our schools up and running for the full year in 2021-22. Thank you!­
September 6, 2021
As we begin our 2021-22 school year, South Seneca will continue to report any new confirmed cases of COVID-19 in the school community. This week, three staff members—two from the Middle-High School and one from the Elementary School—are finishing their quarantine periods after recently testing positive. We are also aware of one high school student who has tested positive and is awaiting the end of the quarantine period to return.
It is likely that the beginning of school will also reveal the status of others who are either confirmed positive or are absent due to quarantine as a close contact. The district will be working closely with the Seneca County Health Department to report each new case, and any impact of future quarantines. With new flow charts for close contact determination, and a universal mask mandate in schools statewide, we do expect that those impacts will remain minimal, and programs should remain substantially open this year.
As always, we continue to urge our school community to do everything possible to mitigate the spread of viruses. Working together, we can minimize illnesses and keep our schools up and running for the full year in 2021-22.
Thank you!